Why Volunteer?
Alumni volunteers make a real difference by donating their time and expertise. Whether you have just an hour a month, or are looking for a longer-term commitment, we invite you to join the KAUST Alumni Volunteer Network (KAVN).

Volunteering is a great way for alumni to give back, and make a lasting impact. Our network of volunteers are global ambassadors, contributing time and expertise to opportunities benefiting current and future students, fellow alumni and the KAUST community. Through the KAVN, you'll stay connected, enhance your skills including public speaking, and strengthen your personal and professional networks.


Global and Virtual Volunteer Opportunities

Speak on a virtual or in-person alumni career panel
Your experience counts! Inspire current and future students by speaking about your KAUST experience and/or your career. Opportunities to speak on panels come up throughout the year, and we regularly invite alumni from our KAVN to present on their own or alongside other alumni. We are currently seeking expressions of interest for future panels including the Things I Wish I'd Known panel at Orientation in August 2022. Interested? Register today.

Become a Social Media Ambassador (SMA)
SMAs amplify KAUST messaging and create positive buzz among your own online networks, in your own languages. You'll disseminate KAUST-generated information and online content through your own social channels in your own language. As a SMA you'll be able to help us reach the global alumni community, and serve as an invaluable asset to our promotional efforts.

Support or lead an Alumni Chapter or Regional Alumni Network
Support, establish or lead one of our alumni chapters in Saudi Arabia or internationally. In a region with less than 10 alumni and still want to represent KAUST? Then establish a Regional Alumni Network and be the KAUST alumni ambassador in that city or country. We are currently recruiting volunteers to establish the North American Alumni Chapter (from May – September 2022), and Regional Alumni Network Ambassadors globally. For more information, contact us.
Support Alumni Affairs as an Events Coordinator
Alumni Affairs regularly hosts events at KAUST or throughout the Kingdom, and we need help from enthusiastic alumni and students to register guests arriving at events, answering questions, welcoming VIPs or handing out gifts. If you're interested in developing your PR skills, and working alongside the Alumni Affairs team at events including the annual Commencement Rehearsals, register today.
Tell your alumni story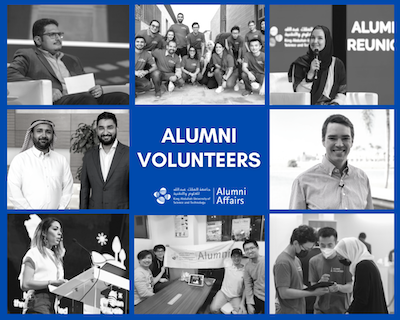 Where has life taken you since graduating from KAUST? Are you working on an exciting project or initiative? Share your career story by writing your own alumni profile for Alumni Affairs to use on KAUST Alumni social media.

Supporting jobs and internships

If your company is recruiting graduating students, or offering internships, we invite you to recruit from KAUST and share your job opportunities through our KAUST Alumni LinkedIn page. If you're interested in giving career talks or holding employer information sessions specific to your company, let us know.

Host or sponsor an event

Can you offer a venue or interesting space for a KAUST alumni event? If you work in, or have access to an interesting or exclusive venue, let us know.

If you're interested in volunteering in any of the above register today.